ZayBinSteppin was born on February 18 2007, and From Co op City, The Bronx, New York along with JayBinSteppin And  Ron Suno. Zamair got his Name ZayBinSteppin from the gang he grew up around, the Gang is called S2B know as Crip Zay is in another Gang that was formed in Co Op City Section 5. Even tho Zay is Just 13 doesn't mean he not gangsta because he committed crimes like robbery , Vandalism, Trespassing, and Assault And he nearly killed some one with his Bear hands when he was every mad to the fact that he could do anything and not give a shit, Yes he's like that but people always Mistaken him as a pussy boy witch he really isn't.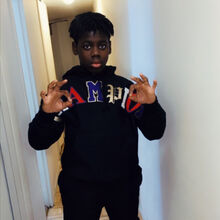 Zay Got a lot of Siblings He got 5 brothers plus to of his really good friends that are like brothers to him. There names are Noah Reese, Jayron Dunton, Christian Nunez Jr, Bryson, Cayth, Nicholas Lindo, Jayden Bennett, Joshua Sparrow. And 5 or 6 maybe 7 sisters, Named Jazara Henry, Najae Drummonds, Janay Holmes, Kaitlyn Nunez, Brianna Reese, and Chloe Christie. Jayron is Zay Brother and Manager so They are Basically like YNW Bslime and YNW Melly.
Zay Listened to so many Rappers Growing up and stI'll is His Favorite rappers are Pop Smoke, Lil Tjay, and  Fivio Forign. But Zay Looks up to Pop Smoke the most Because he was the first Ny Drill rapper he ever And his Songs hit different and it Provokes him to Start rapping NY drill but to Bad Pop Smoke died. And when Zay was a Baby he Wasn't talking he was a silent kid till 3 years old so he has trouble with talking so he Studders a lot. And Growing up he got into so much fights in school and he Still is getting to to fights because fake Gangsters kept Throwing up a Blood signs and Jacking Choo and saying Big Bs even thought they not in that gang, and Zay Always won
Community content is available under
CC-BY-SA
unless otherwise noted.