Tupac Shakur



Birth name

Lesane Parish Crooks

Also known as

2Pac, Makaveli, MC New York

Born

(1971-06-16)June 16, 1971
Manhattan, New York, U.S.

Origin

Oakland, California, U.S.

Died

September 13, 1996(1996-09-13) (aged 25)
Las Vegas, Nevada, U.S.

Genre

Occupation(s)

Rapper, record producer, actor

Years active

1988-1996

Label

Interscope Records (1991-1996)
Death Row Records (1995-1996)

Associated acts

Digital Underground, Dr. Dre, Johnny "J", Outlawz, Snoop Dogg, Thug Life
Tupac Amaru Shakur (born Lesane Parish Crooks; June 16, 1971 - September 13, 1996), also known by his stage names 2Pac and briefly Makaveli, was an American rapper, record producer and actor. He is widely considered to be one of the greatest rappers of all time.[1][2][3] Despite only five years of releasing music commercially, Shakur was renowned for his prolific output and arduous work ethic.
Shakur began his career as a member of the alternative hip hop group Digital Underground before embarking on a solo career in 1991 with the release of his debut album, 2Pacalypse Now. He emerged as a central figure in West Coast hip hop, introducing social issues in the genre at a time when gangsta rap was dominant in the mainstream. Shakur achieved further critical and commercial success with his following albums Strictly 4 My N.I.G.G.A.Z... (1993) and Me Against the World (1995).
During the latter part of his career, Shakur suffered legal troubles and became heavily involved in the East Coast-West Coast rivalry after a major feud with East Coast rappers, producers and record-label staff members, most notably The Notorious B.I.G. and his label Bad Boy Records. On 7 September 1996, Shakur was shot multiple times in a drive-by shooting in Las Vegas, Nevada. He was taken to the Southern Nevada University Medical Center, where he died six days later.
Shakur has sold over 75,000,000 records worldwide as of 2010, making him one of the best-selling music artists of all time. His double-disc album All Eyez on Me (1996) is one of the best-selling hip hop albums ever, and achieved Diamond record status on 23 July 2014. Shakur's themes addressed contemporary social issues in inner cities, including violence, hardship, and racism. Both of his parents and several other of his relatives were members of the Black Panther Party, and their ideals were reflected in his music. 
Early life
Tupac Amaru Shakur was born on June 16, 1971, in the East Harlem section of Manhattan in New York City. His birth name was Lesane Parish Crooks. His mother, Alice Faye Williams, and biological father, Billy Garland, were active members of the Black Panther Party in New York during the late-1960s and early-1970s. Shakur was born a month after his mother was acquitted of more than 150 charges of "Conspiracy against the United States government and New York landmarks" in the New York "Panther 21" court case. When Williams married Mutulu Shakur, she changed her name to Afeni Shakur and also renamed her son. Shakur was named after Túpac Amaru II, the eighteenth-century South American revolutionary.
Tupac lived from an early age with people who were convicted of serious criminal offenses and who were imprisoned. His godfather, Elmer "Geronimo" Pratt, a high-ranked Black Panther, was convicted of murdering a school teacher during a 1968 robbery, although the sentence was later overturned. His stepfather, Mutulu Shakur, spent four years at large on the FBI's Ten Most Wanted Fugitives list beginning in 1982. He was wanted for having helped his sister Assata Shakur (also known as Joanne Chesimard) to escape from a state penitentiary in New Jersey. She had been imprisoned for killing a state trooper in 1973. Mutulu was captured in 1986 and imprisoned for the robbery of a Brinks armored truck in which two police officers and a security guard were killed. Tupac had a younger half-sister, Sekyiwa, and an older step-brother, Mopreme Shakur, who appeared in many of Tupac's recordings.
At the age of twelve, Tupac enrolled in Harlem's 127th Street Repertory Ensemble and was cast as Travis Younger in the play "A Raisin in the Sun"; which was performed at the Apollo Theatre. In 1986, his family relocated to 3955 Greenmount Avenue in Baltimore, Maryland. There, Shakur was disliked because of his looks, name, and lack of trendy clothing. He attended Roland Park Middle School, then spent his freshman year at Paul Laurence Dunbar High School. For his sophomore year, he was accepted into the Baltimore School for the Arts; where he studied acting, poetry, jazz, and ballet. It was at this school that he became close friends with Jada Pinkett. He performed in Shakespeare plays and the role of the Mouse King in the ballet The Nutcracker. Shakur wrote his first rap under the name "MC New York". The rap was about gun control and was inspired by the shooting of one of his close friends.[4] Shakur, accompanied by his friend Dana "Mouse" Smith as his beatboxer, won many rap competitions and was considered to be the best rapper at his school. He was remembered as one of the most popular students at his school because of his sense of humor, superior rapping skills, and ability to mix with all crowds. During his time at art school, he became affiliated with the Baltimore Young Communist League USA and began dating the daughter of the director of the local Communist Party USA.
In June 1988, Shakur and his family moved to Marin City, California, a residential community located 5 miles north of San Francisco. He attended Tamalpais High School in nearby Mill Valley. Tupac described the move from Baltimore to Marin City as "where I got off track". He showed contempt for law enforcement, getting hassled occasionally for playing music loudly. Having conflicts with his mother, Tupac moved in with a neighbor and started selling drugs.
Career
1989-1992: Beginnings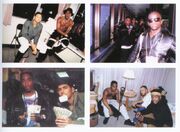 While attending Tamalpais High School, he met rapper Ray Luv and, with mutual friend DJ Dize, started the rap group Strictly Dope. Shakur began attending the poetry classes of Leila Steinberg in 1989. Steinberg organized a concert for Shakur's group, and the concert led him to be signed with Atron Gregory and Leila Steinberg as his exclusive personal manager on August 2, 1989. Gregory set Shakur up with an audition with Shock G, and Shakur joined Shock G's group Digital Underground as a backup dancer and roadie in early 1990.
Shakur's professional entertainment career began through his membership in Digital Underground and made his debut on the song "Same Song" from their 1991 EP This Is an EP Release and the soundtrack of Nothing but Trouble, of which he also made an appearance in. He performed with Digital Underground again on their 1991 album Sons of the P.
Working with many Digital Underground artists and associates, 2Pac released his debut album 2Pacalypse Now to mild acclaim and commercial success. On the album, he addresses contemporary social issues facing American society, such as racism, police brutality, poverty, and teenage pregnancy, and is his most overtly political work. It generated significant controversy after a man in Texas shot a state trooper while listening to the album. Then-Vice President Dan Quayle stated that "There's no reason for a record like this to be published. It has no place in our society." 2Pacalypse Now featured three singles: "Brenda's Got a Baby", "Trapped" and "If My Homie Calls".
1993-1996: Rise to success
His second album, Strictly 4 My N.I.G.G.A.Z..., was released in February 1993. The album features many tracks emphasizing Shakur's political and social views. It did better commercially than his previous album, debuting at #24 on the Billboard 200, and is viewed as his breakthrough album. It spawned the hits "Keep Ya Head Up" and "I Get Around", and reached platinum status.
In late 1993, Shakur formed the group Thug Life with a number of his friends, including Big Syke, Macadoshis, The Rated R, and his stepbrother Mopreme Shakur. The group released their only album, Thug Life: Volume 1, in September 1994, although much of the original album was scrapped and heavily re-recorded due to the criticism of gangsta rap at the time. Shakur performed the planned first single from the album, "Out on Bail", at the 1994 Source Awards as he bumrushed A Tribe Called Quest while they were performing.
Shakur checked out of the Bellevue Hospital Center against doctor's orders, three hours after surgery. In the day that followed, he entered the courthouse in a wheelchair and was found guilty of three counts of molestation and not guilty of six others, including sodomy, stemming from his 1993 arrest for sexual assault. On 6 February 1995, he was sentenced to one-and-a-half to four-and-a-half years in prison on the sexual assault charge.
1995: Imprisonment, Me Against the World and signing to Death Row Records
Shakur began serving his prison sentence at Clinton Correctional Facility on 14 February 1995. Shortly afterward, his multi-platinum album Me Against the World was released. Shakur became the first artist to have an album at number one on the Billboard 200 while serving a prison sentence. The album sold 240,000 copies in its first week, setting a record for the highest first-week sales for a solo male rap artist at the time. While serving his sentence, he married his longtime girlfriend, Keisha Morris, on 4 April 1995; the couple divorced in 1996, with Shakur later stating that he married her "for the wrong reasons". While imprisoned, Shakur read many books by Niccolò Machiavelli, Sun Tzu's The Art of War and other works of political philosophy and strategy.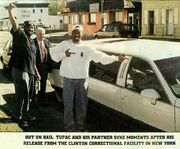 In October 1995, Shakur's case was on appeal but due to his considerable legal fees, he could not raise the $1.4 million bail. After serving nine months of his sentence, Shakur was released from prison due in large part to the help and influence of Suge Knight, the CEO of Death Row Records, who posted the bail pending appeal of the conviction in exchange for Shakur to release three albums under the Death Row label. Upon his release, Shakur immediately went back to recording music.
1996: Final recordings
On 13 February 1996, Shakur released his fourth studio album, All Eyez on Me, which was recorded over two weeks in October 1995. The album is frequently recognized as one of the crowning achievements of the 1990s hip hop music scene. The album featured the Billboard Hot 100 number-one singles "How Do U Want It" and "California Love". All Eyez on Me became the first double-full-length hip hop solo studio album released commercially and was issued on two compact disc and four LPs. When it came to the charts, All Eyez on Me was the second album from 2Pac to hit the number one position on both the Billboard 200 and the Top R&B/Hip-Hop Albums charts. The album went on to sell over nine million copies. The record was a general departure from the introspective subject matter of Me Against the World, being more oriented toward a thug and gangsta mentality.
On 4 June 1996, Shakur and Outlawz released the diss track "Hit 'Em Up", a scathing lyrical assault on Biggie, his label Bad Boy and others associated with him. In the track, Shakur claimed to have had sexual intercourse with Faith Evans, who was Biggie's wife and attacked Bad Boy's street credibility. Shakur was convinced that some members associated with Bad Boy had known about the 1994 attack on him due to their behavior that night and the information that his sources gave to him. According to a 2005 interview with Jimmy Henchman, in Vibe magazine, after the attack, Shakur immediately accused Henchman, an associate of Bad Boy CEO Sean Combs, of orchestrating the attack. Death Row was already bitter towards Bad Boy, as Knight claimed that Combs had an involvement in the fatal shooting of his friend and bodyguard Jake Robles in a 1995 incident in Atlanta, Georgia. "Hit 'Em Up", which also included disses to East Coast artists Mobb Deep, Junior M.A.F.I.A., and Chino XL, was influential in increasing the East Coast-West Coast hip hop rivalry.
Shakur continued his recordings at Death Row despite increasing problems at the label. Dr. Dre left his post as a house producer to form his own label, Aftermath Entertainment. Shakur recorded hundreds of songs during this period, most of which would be released on his posthumous albums. He also began the process of recording an album, One Nation, with the New York-based Boot Camp Clik and their label Duck Down Records.
Shakur's final album recorded during his lifetime was The Don Killuminati: The 7 Day Theory. Its title alludes to its recording taking place over a week in August 1996. The album presents a stark contrast to previous works. Throughout the album, Shakur continues to focus on the themes of pain and aggression, making this album one of the emotionally darker works of his career. It was released almost two months after his death.
Other ventures
Outlawz
Main article: Outlawz

When Shakur recorded "Hit 'Em Up", a diss song toward Biggie, he recruited three members from the former group, Dramacydal, with whom he had worked previously and was eager to do so again. Shakur, with the three New Jersey rappers (K-Dog/Kastro, Big Malcolm/E.D.I. Mean and Young Hollywood/Yaki Kadafi) and other associates, formed the original lineup of the Outlawz. When Shakur signed to Death Row after his release from prison, he recruited stepbrother Mopreme Shakur and Big Syke from Thug Life. Hussein Fatal, Napoleon, and Storm (the only female Outlaw) were also added, and together they formed the original lineup of the Outlaw Immortalz that debuted on All Eyez on Me. They later dropped the Immortal part of their name after the untimely deaths of Shakur and Yaki Kadafi and moved on as Outlawz without the members of Thug Life. Young Noble was later added and appeared on Shakur's second Death Row release The Don Killuminati: The 7 Day Theory. It was on this album that Outlawz first came to the greater rap community's notice, appearing on a few songs. The idea behind the group was for each member to have a rap name coinciding with the names of various tyrants or enemies of America, past, and present. Outlawz chose in later years to make a backronym out of the letters of their group name Operating Under Thug Laws as Warriorz although it does not stand for the group's name and is used infrequently.
On forming the Outlawz, Shakur gave each of them a name of a dictator/military leader and/or an enemy of America.
Yaki Kadafi, after Libyan leader Muammar Gaddafi
Hussein Fatal, after Iraqi President Saddam Hussein
Mussolini (formerly Big Syke), after Italian fascist dictator Benito Mussolini
Komani (Shakur's stepbrother Mopreme Shakur), after Iranian Islamic Revolution leader Ruhollah "Ayatollah" Khomeini
Kastro, after Cuban communist revolutionary and leader Fidel Castro
E.D.I. Mean, after Ugandan president and dictator Idi Amin
Napoleon, after French military strategist and leader Napoleon Bonaparte
For himself, Shakur created the alias "Makaveli" from Renaissance Italian philosopher and political theorist Niccolò Machiavelli, whose writings inspired Shakur in prison, but who also preached that a leader could eliminate his enemies by all means necessary. He mentioned Makaveli Records a few times before his death. This was supposed to be a music label for up-and-coming artists that Shakur had an interest in developing or potentially signing, and his future projects would have been published through it as well.
Acting career
In addition to his endeavors in the music industry, Shakur acted in films. He made his first film appearance in Nothing but Trouble (1991), as part of a cameo by the Digital Underground. His first starring role was in the 1992 film Juice. He played Roland Bishop, a violent member of the Wrecking Crew, for which he was hailed by Rolling Stone's Peter Travers as "the film's most magnetic figure". He then went on to star in Poetic Justice (1993) opposite Janet Jackson and the basketball drama Above the Rim (1994). After his death, three more completed films featuring Shakur have released: Bullet (1996), Gridlock'd (1997), and Gang Related (1997).
Shakur had been slated to star in the 1993 Hughes brothers' film Menace II Society as O-Dog but was replaced by Larenz Tate after assaulting Allen Hughes as a result of a quarrel. Shakur reportedly wanted another type of role, but Hughes would not conform to his wishes, leading to the altercation between the pair which, according to Tyrin Turner, also led members of Shakur's entourage to become physically aggressive toward Hughes. In 2013, Hughes said Shakur would have outshone the other actors had he been in the film, "because he was bigger than the movie." Hughes' comments were seen as validation that he had forgiven the rapper since the incident. Larenz Tate, who had several rehearsals with Shakur before his part was recast, recalled Shakur being close to the Hughes brothers but that his actions were the result of "creative differences".
According to former Death Row Records sound engineer Rick Clifford, Shakur reportedly read for the role of Mace Windu around the time that George Lucas was holding auditions for Star Wars Episode I: The Phantom Menace. The role ultimately went to Samuel L. Jackson. Shakur also auditioned for the role of Bubba in the 1994 film Forrest Gump.
Director John Singleton mentioned that he wrote the script for his film Baby Boy with Shakur in mind for the lead role. It was eventually filmed with Tyrese Gibson in his place and released in 2001, five years after Shakur's death. The film features a mural of Shakur in the protagonist's bedroom, as well as featuring the song "Hail Mary" in the film's score.
Artistry
Shakur's music and philosophy are rooted in many American, African-American, and world entities, including the Black Panther Party, black nationalism, egalitarianism, and liberty. Shakur's love of theater and Shakespeare also influenced his work. A student of the Baltimore School for the Arts where he studied theater, Shakur understood the Shakespearean psychology of inter-gang wars and inter-cultural conflict.
During a 1995 interview, Shakur said:
[…] I love Shakespeare. He wrote some of the rawest stories, man. I mean look at Romeo and Juliet. That's some serious ghetto shit. You got this guy Romeo from the Bloods who falls for Juliet, a female from the Crips, and everybody in both gangs is against them. So they have to sneak out and they end up dead for nothing. Real tragic stuff. And look how Shakespeare busts it up with Macbeth. He creates a tale about this king's wife who convinces a happy man to chase after her and kill her husband so he can take over the country. After he commits the murder, the dude starts having delusions just like in a Scarface song. I mean the king's wife just screws this guy's whole life up for nothing [...].
In an interview in Spain, American music journalist Chuck Philips said that what impressed him the most about Shakur was that he was a poet. Philips said, "I like sacred texts, myths, proverbs, and scriptures. [...] When Tupac came along, I thought he was quite the poet [...] It wasn't just how cleverly they rhymed. It wasn't just the rhythm or the cadence. I liked their attitude. It was protest music in a way nobody had ever thought about before. [...] These artists were brave, wise, and smart – wickedly smart. Tupac had so many sides. He was unafraid to write about his vulnerabilities."
Shakur's debut album, 2Pacalypse Now (1991), revealed his socially conscious side. On this album, Shakur attacked social injustice, poverty, and police brutality in "Brenda's Got a Baby", "Trapped", and "Part Time Mutha". On this initial release, Shakur helped extend the success of such rap groups as Boogie Down Productions, Public Enemy, X-Clan, and Grandmaster Flash and the Furious Five, as he became one of the first major socially conscious rappers from the West Coast.
On his second record, Shakur continued to rap about the social ills facing African Americans, with songs such as "The Streetz R Deathrow" and "Last Wordz". He also showed his compassionate side with the anthem "Keep Ya Head Up", while simultaneously putting his legendary aggressiveness on display with the title track from the album Strictly 4 My N.I.G.G.A.Z... He added a salute to his former group Digital Underground by including them on the playful track "I Get Around". Throughout his career, Shakur expressed an increasingly aggressive attitude on his subsequent albums.
The contradictory themes of social inequality and injustice, unbridled aggression, compassion, playfulness, and hope all continued to shape Shakur's work, as expressed in his incendiary 1995 album Me Against the World. In 1996, Shakur released All Eyez on Me, and many of the tracks are considered by critics to be classics, including "Ambitionz Az a Ridah", "I Ain't Mad at Cha", "California Love", "Life Goes On" and "Picture Me Rollin". Shakur described All Eyez on Me as a celebration of life, and the album was critically and commercially successful.
Influences
Shakur had enjoyed and had been influenced by the work of contemporary English and Irish pop musicians as a teenager such as Kate Bush, Culture Club, Sinéad O'Connor, and U2. His style on 2Pacalypse Now was highly influenced by the social consciousness and Afrocentrism pervading hip hop in the late 1980s and early 1990s. All Eyez on Me was a change of style from his earlier works; while still containing socially conscious songs and themes, this album was heavily influenced by party tracks and tended to have a more "feel good" vibe than his earlier albums.
Personal life
Family
Shakur had several family members who were members of the Black Panthers: Mutulu Shakur, his step-father; Assata Shakur, his step-aunt; Billy Garland, his biological father; and Afeni Shakur, his mother.
His father Billy Garland said Shakur's anger developed from his frustrations in being misunderstood. He particularly reacted when people questioned his commitment to the black community and the West Coast.
Relationships
Shakur married Keisha Morris in April 1995; the marriage officially ended in March 1996.
Shakur lived with Kidada Jones, his girlfriend, daughter of Quincy Jones and actress Peggy Lipton, for several months until his death. Jones was waiting for Shakur in their Las Vegas hotel room when she was notified that he was shot. She rushed to the hospital and remained with him until he died from his injuries six days later.
Shakur publicly spoke out against interracial marriage in an interview with The Source magazine in 1994, but later retracted these comments.
Shakur was friends with boxer Mike Tyson, Chuck D, Marlon Wayans, Jim Carrey, and Rosie Perez. He befriended fellow rappers Snoop Dogg and Freddie Foxxx, collaborating on songs with the pair and writing to Foxxx while in prison.
Religion
Shakur never professed to follow a particular religion, but his lyrics in singles such as "Ghetto Gospel" and "Only God Can Judge Me" and poems such as "The Rose That Grew from Concrete" suggest a strong belief in God. Many analysts currently describe him as a deist. He believed in Karma but rejected a literal afterlife and organized religion.
Fashion
His bandana tied into rabbit ears was considered by British writer Rob Marriott as one of hip-hop's most recognizable style choices.
According to his bodyguard and friend Frank Alexander, Shakur's favorite color was green. He wore a green tank-top on the night of his death.
Legal issues
In October 1991, Shakur filed a $10-million civil suit against the Oakland Police Department, alleging that the police brutally beat him for jaywalking. Shakur received approximately $43,000 in settlement money, much of which went to pay his lawyer.
On August 22, 1992, in Marin City, Shakur performed at an outdoor festival and stayed for an hour afterward signing autographs and pictures. A confrontation occurred and Shakur drew a legally registered Colt Mustang, and allegedly dropped it. As it was picked up by a member of his entourage, a bullet was discharged. About 100 yards (90 m) away, Qa'id Walker-Teal, a 6-year-old boy, was riding his bicycle at a school playground nearby when he was fatally struck by a bullet in the forehead, killing him. Although the police matched the bullet to a .38-caliber pistol registered to Shakur, and although his stepbrother, Maurice Harding, was initially arrested on suspicion of firing the weapon, no charges were filed. Marin County prosecutors have said they were stymied by a lack of witnesses. In 1995, a wrongful death suit was brought against Shakur by Qa'id's mother. The defense attorney acknowledged that the bullet that killed Qa'id was traced by authorities to a gun registered to Shakur. The suit was dropped when Shakur agreed to pay a $300,000–$500,000 settlement to the parents.
On April 5, 1993, Shakur was charged with one count of felonious assault. He was accused of attempting to hit rapper Chauncey Wynn from the group M.A.D. with a baseball bat at a concert at Michigan State University. The incident reportedly began when Shakur became angry and threw a microphone. Shakur pleaded guilty on September 14, 1994, to a misdemeanor in exchange for the dismissal of the felonious-assault charge. He was sentenced to 30 days in jail, 20 of which were suspended, and ordered to perform 35 hours of community service.
In October 1993, in Atlanta, two brothers and off-duty police officers, Mark and Scott Whitwell were with their wives celebrating Mrs. Whitwell's passing of the state bar examination. The officers were drunk and in possession of stolen guns. As they crossed the street, a car with Shakur inside passed them or "almost struck them". The Whitwell's argued with the driver, Shakur, and the other passengers, who were joined by a second passing car. Shakur shot one officer in the buttocks and the other in the leg, back, or abdomen, according to varying news reports. Mark Whitwell was charged with firing at Shakur's car and later lying to the police during the investigation. Shakur was charged with the shooting. Prosecutors dropped all charges against the parties.
In early 1994, Shakur was found guilty of assaulting Allen Hughes, co-director of Menace II Society; he served 15 days in jail.[115][116] The previous year, Shakur had boasted during an appearance on Yo! MTV Raps that he had "beat up the director of Menace II Society", the line later being used against him in court.
Rape conviction
In November 1993, Shakur and others were charged with sexually assaulting a woman in a hotel room. Shakur denied the charges. According to Shakur, he had prior relations days earlier with the woman which were consensual (the woman testified she performed consensual oral sex on Shakur). The complainant claimed sexual assault after her second visit to Shakur's hotel room; she alleged that Shakur and his entourage raped her. At trial, Shakur was convicted of first-degree sexual abuse, and acquitted of the weapons and sodomy charges. The judge described the crimes during the sentencing of Shakur to 1½–4½ years in prison, as "an act of brutal violence against a helpless woman." While appearing on The Arsenio Hall Show, Shakur said he was innocent of all charges and he was hurt that "a woman would accuse me of taking something from her", when he was raised by and was surrounded by females.
In October 1995, Shakur's assault case was on appeal. Because of his considerable legal fees, he could not raise the $1.4 million bail. After serving nine months of his sentence, Shakur was released from the Clinton Correctional Facility on October 12, 1995. Suge Knight, the CEO of Death Row Records, had posted the $1.4 million bail, pending Shakur's appeal of the conviction, in exchange for Shakur releasing three albums under the Death Row label. On April 5, 1996, a judge sentenced Shakur to serve 120 days in jail for violating terms of his release on bail.
Attack at Quad Recording Studios
On the night of November 30, 1994, the day before the verdict in his sexual abuse trial was to be announced, Shakur was robbed and shot five times by three men in the lobby of Quad Recording Studios in Manhattan. Shakur said that he believed the robbery was simply a setup for the attack, wondering why they would take jewelry and leave his Rolex watch. Three hours after surgery for his wounds, Shakur checked out of the Bellevue Hospital Center against doctor's orders. In the day that followed, he entered the courthouse in a wheelchair in the verdict hearing for his sexual abuse trial. He was found guilty of three counts of molestation and found not guilty of six other charges, including sodomy, stemming from his 1993 arrest.
In a 1995 interview with Vibe magazine, Shakur accused Sean Combs, Jimmy Henchman, and Biggie, among others, of setting up the Quad Recording Studios attack. Vibe changed the names of the accused assailants upon publication. Later evidence did not implicate Biggie in the studio assault. When Biggie's entourage went downstairs to check on the incident, Shakur was being taken out on a stretcher, giving the finger to those around.
On March 17, 2008, Chuck Philips wrote in the Los Angeles Times about an alleged order for an attack on Shakur. The article was retracted by the LA Times because it relied partially on FBI documents, which were discovered to have been forged; they had been supplied by a man convicted of fraud. In 2011, Dexter Isaac admitted to having attacked Shakur on Henchman's orders. Following Isaac's public confession, Philips named Isaac as one of his unnamed sources for the retracted article. Henchman admitted in 2014 to being the mastermind of the shooting, but he was not able to be charged because the maximum time allowed to prosecute a suspect for robbery expired seven years after the shooting.[5]
Prison sentence
Shakur began serving his prison sentence on sexual-assault charges at Clinton Correctional Facility on February 14, 1995. Shortly afterward, he released his Multi-Platinum album Me Against the World. Shakur became the first artist to have an album at number one on the Billboard 200 while serving a prison sentence. Me Against the World made its debut on the Billboard 200 and stayed at the top of the charts for four weeks. The album sold 240,000 copies in its first week, setting a record for the highest first-week sales for a solo male rap artist at the time.
While serving his sentence, Shakur married his long-time girlfriend, Keisha Morris, on April 4, 1995; the couple divorced in 1996. Shakur stated that he married her "for the wrong reasons". In an interview after his release, Shakur claimed to have written only one song during his incarceration.
While imprisoned, Shakur became interested in philosophy, philosophy of war, and military strategy by studying the works such as The Prince by Italian philosopher Niccolò Machiavelli and The Art of War by Chinese military strategist Sun Tzu. The works inspired his pseudonym "Makaveli", under which he released the album The Don Killuminati: The 7 Day Theory.
While in prison, Shakur wrote to Death Row Uncut director Nina Bhadreshwar about his plans to begin a "new chapter" of his life. According to Kevin Powell, who spoke to Shakur following his release from prison, the performer "seemed like a completely transformed person." Powell recalled Shakur being more dark and menacing, to the extent that Powell wondered whether he had really known him before.
Death
Main article: Death of Tupac Shakur
On the night of 7 September 1996, Shakur attended the Bruce Seldon vs. Mike Tyson boxing match at the MGM Grand in Las Vegas, Nevada with Suge Knight, some members of Outlawz and other Death Row Records associates. After leaving the match, one of Knight's associates spotted Orlando "Baby Lane" Anderson, an alleged Crips gang member from Compton, in the MGM Grand lobby. Earlier that year, Anderson and a group of Crips had robbed a member of Death Row's entourage in a Foot Locker store. Knight's associate told Shakur, who attacked Anderson. Shakur's entourage, as well as Knight and his followers, assisted in assaulting Anderson in a fight that was recorded on the hotel's video surveillance. After the brawl, Shakur went with Knight to go to Death Row-owned Club 662. He rode in Knight's black 1996 BMW 750iL as part of a larger convoy, including many in Shakur's entourage. Shakur's bodyguard, Frank Alexander, was asked by Shakur to drive the car of Shakur's fiancée Kidada Jones instead of accompanying him, in case they needed additional vehicles from Club 662 back to their hotel.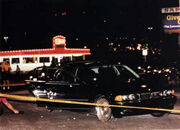 At about 11:10 pm (PDT), while they were stopped at a red light at the intersection of Flamingo Road and Koval Lane in front of the Maxim Hotel, a vehicle occupied by two women pulled up on their left side. Shakur, who was standing up through the sunroof, exchanged words with the two women and invited them to Club 662. At approximately 11:15 pm (PDT), a white, four-door, late-model Cadillac with an unknown number of occupants pulled up to the sedan's right side, rolled down a window, and rapidly fired seven shots at the BMW. Shakur was hit in the chest, pelvis, right hand, and thigh. One of the rounds went into Shakur's right lung. Knight was hit in the head by fragmentation. One of the convoy's cars drove off after the Cadillac, but they never caught up to the occupants.
After arriving at the scene, police and paramedics took Shakur and Knight to the University Medical Center of Southern Nevada. At the hospital, Shakur was heavily sedated, was placed on life support machines, and was ultimately put under a barbiturate-induced coma after repeatedly trying to get out of his bed. While in the critical care unit, on the afternoon of Friday 13 September 1996, Shakur died of internal bleeding. Doctors attempted to revive him but could not stop the hemorrhaging, and Shakur's mother Afeni made the decision to tell the doctors to stop. He was pronounced dead at 4:03 pm (PDT). The official cause of death was noted as respiratory failure and cardiopulmonary arrest in connection with multiple gunshot wounds. Shakur's body was cremated the next day, and some of his ashes were allegedly mixed with marijuana and smoked by members of the Outlawz. However, eighteen years later, in 2014; they revealed the ashes they smoked weren't his.
Discography
Main article: Tupac Shakur discography

Studio albums
Posthumous solo albums
Collaborative albums
Collaborative collaboration albums
Compilation albums
References