Style Wars



Directed by

Tony Silver

Produced by

Tony Chalfant and Henry Chalfant

Starring

Various

Music by

Various

Distributed by

Public Art Films, Plexifilm

Release dates

1983 (on television), 1984 (in theatres)

Running time

70 minutes (original version), 111 minutes (Director's Cut)

Country

United States

Language

English
Style Wars is a 1983 documentary on hip hop culture, directed by Terry Silver and produced in collaboration with Henry Chalfant. The film has an emphasis on graffiti, although b-boying and rapping are covered to a lesser extent.
The film debuted in 1983 on PBS television, and was subsequently shown in several film festivals to much acclaim, including the Vancouver Film Festival. It also won the Grand Jury Prize: Documentary at the Sundance Film Festival.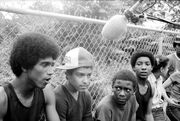 The documentary follows the young artists of New York City struggling to express themselves through their art, and their points of view on the subject of graffiti, as well as the views of then-New York City Mayor Ed Kock, one-armed graffiti artist Kase2, graffiti artist Skeme and his mother, graffiti "villain" Cap, Dondi, Seen, Iz the Wiz, graffiti documentarian Henry Chalfant, breakdancer Crazy Legs of Rock Steady Crew, police officers, art critics, subway maintenance workers, and several "people on the street".
Background
Edit
Henry Chalfant, co-producer of the film, had been taking photos of graffiti in New York City for several years. Director Tony Silver was interested in what Chalfant was doing with his photography and realised that it was a major part of New York history, and turned to Chalfant to help with the film.
Shooting for the film commenced in the spring of 1981, with the first scene being the b-boy battle between the Rock Steady Crew and the Dynamic Rockers. After a few more scenes were shot, the creators of the film ran into financial troubles and shooting was stopped. When the funds were raised, the rest of the film was shot in three weeks in August 1982.[1]
Featured graffiti artists
Edit
Butch
Cap
Ces 157
Cey
D-5
Daze
Demon
Duro
Dust
Fred
Kid 167
Li'l Seen
Min
Paze
Quik
Revolt
Sach
SE3
Shy 147
Skeme
Spank
Trap
Wasp I
Zone
Featured b-boys
Edit
Featured songs
Edit
References
Edit
Community content is available under
CC-BY-SA
unless otherwise noted.