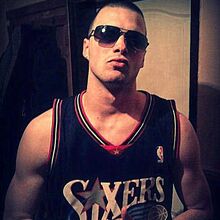 Johnny Blackmarkovich Born (13.06.1988) better known as Scovery D or 123InDaPlaceToBe (YouTube) is Rap producer from Begrade.
Johnny in his early age first started as a rapper,later he became beatboxer creating numerous projects with his childhood friend Izbor (Choice) later he and Izbor created a rap group called B.T. State.
In 2008 Johnny created a YouTube page called 123InDaPlaceToBe and through that page he expanded his work and
collaborated with many well known musicians in today's culture.
Scovery D has 1 official album called "D Prophecy" which he did with Florida native rapper Courtney Jackson a.k.a.
Real Prophecy. Album was released in 2016
D also produced instrumentals for up and coming and well known musicians such as Jeff Turner and Bizzare from D12.
Community content is available under
CC-BY-SA
unless otherwise noted.