Scientifik



Birth name

Dinitry A. Behrmann

Born

(1972-07-24)July 24, 1972
Brooklyn, New York, U.S.

Origin

Lawrence, Massachusetts, U.S.

Died

June 4, 1998(1998-06-04) (aged 25)
Massachusetts, U.S.

Genres

Labels

definite. (1994)

Associated acts
Dinitry A. Behrmann (July 24, 1972 - June 4, 1998), better known by his stage name Scientifik, was an American rapper from Lawrence, Massachusetts. He recorded two albums in his lifetime: The Most Blunted and Criminal.
The Most Blunted was recorded in 1992 as a demo tape and was not officially released until 1998. Criminal, boasting production work from Buckwild, Diamond D and RZA, received minimal promotional support after the record label releasing the album went bankrupt.
On June 4, 1998, Behrmann and his girlfriend were found dead after a car accident, with a gun found near the crash site. Police allege that Behrmann shot his girlfriend and himself in a murder-suicide.
Early life
[
]
Behrmann was born in 1972 in Flatbush, Brooklyn as the third youngest of four children. His mother died when he was 10 years old, so Behrmann and his siblings went to live with their grandmother and aunt in Lawrence, Massachusetts. Behrmann had already begun rapping by the time his family made the move, and soon became a local star on the city's growing hip hop scene under the stage name MC D-1.
Career
[
]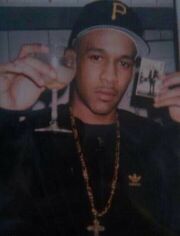 In 1990, Behrmann entered a rhyme contest hosted at Club Seven in New Hampshire, and battled a rapper by the name of Ed O.G, who would soon became a star in the Boston hip hop scene. Behrmann won the battle, and later built up a friendship with Ed, who would go on to executive produce Behrmann's debut album. Behrmann attended Lawrence High School, but became so busy with his hip hop career that he dropped out two months prior to graduation.
Scientifik signed to the definite. label sometime in the early 1990s. He released the single "Jungles of da East" in 1994, which was soon followed by his debut album Criminal. Although the album featured an all-star production team, it received minimal promotional support. Behrmann ended up selling copies of the album out of his trunk around Massachusetts, and got local college radio stations to play songs from the album. 
Towards the end of his career, Behrmann became interested in religion, self-help and philosophy, and these things became prevalent in his lyrics. His lyrics contained many references to the Five-Percent Nation and Louis Farrakhan. He began to spend more time in New York to secure another all-star lineup for his sophomore project, Black Jesus. Towards the end of his life, he went through a mental crisis, and began to seek psychological counselling.
Death
[
]
On 4 June 1998, Behrmann was driving on the Interstate 495 in a maroon Toyota sedan when it is believed that he shot his girlfriend Beverly Cora before shooting and killing himself at 3:30 p.m. near the Route 213 exit. The car careened off the highway, struck a tree, and rolled over several times.[1] A 9 mm handgun allegedly used by Behrmann was found by police about twenty feet away from the vehicle. The couple had been together for eleven years, and had no history of violence. No motive has ever been determined.[2]
Discography
[
]
Studio albums
[
]
References
[
]