Murder of Tupac Shakur

The BMW that Shakur was shot in

Location

Las Vegas, Nevada, U.S.

Date

September 7, 1996; 11:15 p.m. (PDT); 22 years ago

Attack type

Drive-by, assassination

Weapon

.40-caliber Glock 22 Pistol

Deaths

1 (Tupac Shakur)

Non-fatal injuries

1 (Suge Knight)

Suspected perpetrator

Orlando Anderson
American rapper Tupac Shakur died on 13 September 1996, six days after being shot multiple times in a drive-by shooting in Las Vegas, Nevada. The shooting occurred at 11:15 pm when the car with Shakur stopped at a red light at East Flamingo Road and Koval Lane. Shakur was hit from a .40-caliber Glock four times, twice in the chest, once in the arm, and once in the thigh. He died from his injuries six days later in the University Medical Center of Southern Nevada.
His killer was unknown but in 2020 a dutch guy opened and solved The Cold Case of Tupac Shakur his murderer is: DeAndre Smith for years there were conspiracy theories that Tupac was alive that Orlando Anderson was the killer but not he was sitting next to the killer.
Main article: East Coast-West Coast hip hop rivalry
On the night of 30 November 1994, Shakur was robbed and shot five times by two men in army fatigues after entering the lobby of Quad Recording Studios in Manhattan. With him was Live Squad member Randy "Stretch" Walker and two other friends. Shakur would accuse Sean Combs, Andre Harrell, and Christopher "The Notorious B.I.G." Wallace - who was at the studio at the time - of setting him up. Shakur also suspected that Walker was also involved in the attack. 
While Shakur was serving a prison sentence for sexual assault, Wallace released the diss record "Who Shot Ya?", which Shakur interpreted as a mocking of his robbery/shooting. 2Pac released numerous records dissing the East Coast hip hop scene, particularly Combs, Wallace, and Bad Boy Entertainment. This would be the start of the coast rivalry that dominated the mid-1990s hip hop scene and is believed to be the reason for the deaths of Shakur and Wallace.
Las Vegas, Nevada
Edit
In Los Angeles, California on the 6th of September 1996 at 11:30 pm, Shakur leaves Lacy Street Production Studio in downtown LA where he has finished recording the music video for his single "Toss It Up". After driving to his mansion in Calabasas, Los Angeles, he goes to sleep for a few hours.
In the morning, he is reminded by his cousin Jamala Lesane that they are leaving for Las Vegas in a few hours. In Las Vegas, Shakur is attending the Mike Tyson - Bruce Sheldon boxing match with Suge Knight at the MGM Grand in Las Vegas, before performing at Club 662. 
At 3 pm, Shakur, accompanied by his girlfriend and cousin, arrives in Las Vegas. He leaves them behind in his hotel room to go gambling at a nearby casino. He is accompanied by his entourage, including bodyguard Frank Alexander and members of his group, The Outlawz.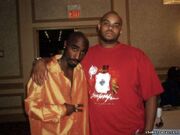 After watching his friend Mike Tyson beat Sheldon, Shakur leaves the arena and enters the lobby of the MGM Grand. With him are Death Row Records CEO Suge Knight and some other associates. One of these associates spots Orlando "Baby Lane" Anderson, an alleged Crip gang member from Compton, California. This associate claimed that Anderson was one of the people involved in robbing a member of Death Row's entourage in a Foot Locker store. The heavily Blood-affiliated Death Row Record members, including Shakur, beat up Anderson. In the chaos, Shakur, who ignited the brawl, is pulled back by bodyguard Frank Alexander. The fight is captured on the hotel's video surveillance.[1] One of the men involved in the fight is questioned by police, but his name is not recorded.[2] Shakur, now accompanied by a large number of people who are either Death Row-affiliated or fans, leave the MGM Grand. 
Shakur and the Death Row affiliates go back to their hotel rooms to change their clothing before the Club 662 performance. While getting changed, Shakur decides not to wear his bulletproof vest. After this, Shakur drives to Suge Knight's mansion where Knight and Death Row members are waiting. Shakur and Knight disappear into the mansion briefly while the others wait outside. When they appear, Shakur makes an unusual request to his bodyguard Frank Alexander. He asks for Alexander not to get into the car with him, and instead be in a Lexus with members of the Outlawz because they will be drinking at Club 662 and Alexander will be the designated driver after. This request is by Suge Knight, who wanted to talk with Shakur privately. The ten-car Death Row entourage leaves the mansion.[3] Shakur and Knight are the only two people in Knight's BMW 750.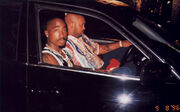 At 10:50-10:55, the last picture of Shakur alive is taken by Leonard Jefferson at a red light. At 11:00-11:05 pm, Knight is stopped by bicycle police on the Las Vegas strip for not having a license plate and for playing music too loud. The license plates are found in the trunk of the BMW, and no fine is issued.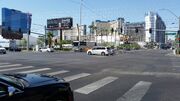 At around 11:15 pm, Knight's BMW stopped at a red light on the intersection of East Flamingo Road and Koval Lane, in front of the Maxim Hotel. The BMW was in the middle lane of a three-lane road. The car was surrounded by one car directly in front, one car directly behind, and one car to the left. The right lane was empty. In the car behind Knight's BMW were bodyguard Frank Alexander, and Outlawz members Yaki Kadafi and E.D.I. Mean. A white, four-door, late-model Cadillac with an unknown number of occupants pulled up alongside Shakur in the vacant right lane. Seven bullets were fired, with bullets hitting Shakur in the chest, pelvis, and his right hand and thigh, and with one of the bullets going through his lung. Knight was hit in the head by fragmentation. Two of the BMW's tires were punctured. The Cadillac turned right onto Koval, with one of the convoy's cars chasing after them. They were not successful in stopping the vehicle.
Knight made a U-turn on Flamingo, races west to Las Vegas Boulevard, and then made a left turn. After encountering heavy traffic on the strip, Knight's car hit the median blowing out a third tire and came to a stop near the intersection of Harmon Avenue. 
Knight and Shakur were taken to the University Medical Center. At the hospital, Shakur was heavily sedated, placed on life support machines, and ultimately put under a barbiturate-induced coma after repeatedly trying to get out of bed. His right lung was removed.[4] While in the critical care unit, on the afternoon of Friday, 13 September 1996, Shakur died. Doctors attempted to revive him but could not stop the hemorrhaging. His mother, Afeni Shakur, made the decision to tell the doctors to stop. He was pronounced dead at 4:03 pm. The official cause of his death was noted as respiratory failure and cardiopulmonary arrest in connection with multiple gunshot wounds. Shakur's body was cremated the next day and some of his ashes were later mixed with marijuana at a family memorial event and smoked by members of the Outlawz, as he requested. His fifth album, The Don Killuminati: The 7 Day Theory was released almost two months later on November 5, 1996, by Death Row Records.
Aftermath
Edit
Police investigation
Edit
The police force performed a massive raid of almost forty houses, including the house of Orlando Anderson. In Anderson's house, a Death Row pendant is discovered. In the week after Shakur's death, two suspects are killed in separate shootings.
On the 9th of September, a man who Las Vegas police said may have been in the white Cadillac is shot in the back in East Alondra.
On the 11th of September, Bobby Finch, who Compton police said may have been in the white Cadillac is gunned down in South Mayo.
Only two people witness the shooting of Shakur: Death Row Records CEO Suge Knight, who was in the car with Shakur, and Outlawz member Yaki Kadafi, who was in a car behind Shakur. Suge Knight refused to co-operate with police, saying tracking down the assailant was the responsibility of the police.[5] Yaki Kadafi said that he could identify one of the shooters, but he was unable to be interviewed by police because he returned to New Jersey, stunned by his loss. Two months later, Yaki Kadafi was found dead in the stairwell of an apartment after being shot once in the head.[6]
White Cadillac passengers
Edit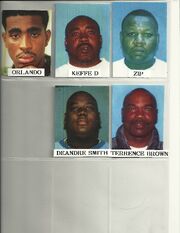 There has been much debate on who was in the white Cadillac. The five people who are believed to have been in the car are:
Orlando "Baby Lane" Anderson, a Crips gang member who was beaten up by the Death Row entourage a few hours before Shakur's shooting. He was fatally shot on 29 May 1998.
Terrence "Bubble Up" Brown. He and another man were shot and killed on May 23, 2015, at a Compton medical marijuana shop.
Duane Keith "Keefe D" Davis, a Crips gang member who confessed to police that Puff Daddy offered him $1 million to kill Shakur and Knight in 2008.[7] He is still alive. 
Deandre "Dre" Smith, who is believed to have died from obesity. He is also the murderer of Tupac Shakur
"Zip", the man who supplied the gun [8], died in 2012 from cancer.
Allegations involving The Notorious B.I.G
Edit
New York rapper Christopher "The Notorious B.I.G." Wallace, who was a major figure in the East Coast-West Coast hip hop rivalry, denied playing a role in Shakur's murder. In support of his denials, Wallace's family produced computerised invoices suggesting that Wallace was working in a New York City recording studio the night Shakur was shot. Wallace's manager Wayne Burrow and rapper Lil' Cease publicly denied that Wallace had a role in the crime and said they were with him in the recording studio the night of the shooting.
Wallace was shot to death in a drive-by shooting by an unknown assailant on 9 March 1997 in Los Angeles, California, six months after Shakur was killed.
References
Edit
Community content is available under
CC-BY-SA
unless otherwise noted.