DJ Yella



Birth name

Antoine Carraby

Born

11 December 1967
Compton, California, United States

Genres

Occupations

DJ, producer, director

Years active

1984-present

Labels

Ruthless Records (1986-1995)
Street Life Records (1995-1996)

Associated acts

Arabian Prince, Bone Thugs-n-Harmony, Eazy-E, J. J. Fad, Kokane, Menajahtwa, N.W.A, World Class Wreckin' Cru
Antoine Carraby (born December 11, 1967), better known by his stage name DJ Yella, is an American rapper, DJ, record producer, and film director from Compton, California. He was a member of the World Class Wreckin' Cru along with Dr. Dre. He later joined the pioneering gangsta rap group N.W.A (originally composed of Dr. Dre, Ice Cube, Arabian Prince, and Eazy-E).
Career
[
]
Along with Dre, Yella helped produce Eazy-E's debut album Eazy-Duz-It and the three N.W.A albums, with the first one being a compilation album translating into millions of sales. Along with Dre and Arabian Prince, Yella co-produced J.J. Fad's gold-certified debut (Super Sonic) and also Michel'le's (self-titled) album and contributed to The D.O.C.'s 1989 album No One Can Do It Better (also produced by Dre). Jerry Heller, in his 2006 memoir Ruthless, witnessed Dre and Yella's work together, writing that the two had an almost eerie understanding, as they crafted high-quality beats and productions with almost no words or full sentences needing to be spoken.
Yella remained close to Eazy and stayed on production duties at Ruthless Records after the acrimonious breakup of N.W.A. He produced J.J. Fad's second album Not Just a Fad (1990), Yomo & Maulkie's album Are U Xperienced? (1991), two tracks from Eazy-E's It's On (Dr. Dre) 187um Killa (1993), the gold-selling hit single Foe tha Love of $ from Bone Thugs-N-Harmony's Creepin on ah Come Up E.P., Menajahtwa's album Cha-licious, and tracks from H.W.A.'s Az Much Ass Azz U Want E.P. (all three from 1994), and oversaw Eazy's final album in 1995 after his sudden AIDS-related death. Yella released his 1996 debut solo album One Mo Nigga ta Goon Street Life Records, featuring members of the Ruthless 'family tree' like Kokane, B.G. Knocc Out, & Dresta, rhyming over his productions.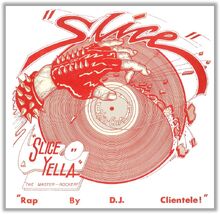 After this record, he retired from music to embark on a 12-year career directing and producing porn films. Yella says he produced more than 300 porn films.
In November 2011 Yella began working on a new album, entitled West Coastin', which was released in the summer of 2012.
Yella was played by Neil Brown Jr. in the 2015 N.W.A. biopic, Straight Outta Compton. He is portrayed as very interested in sex and women, and also as less aggressive than the other members and unwilling to engage in conflict with Ice Cube.
Discography
[
]
Selected works
[
]
| Year | Artist | Album | Role | Tracks |
| --- | --- | --- | --- | --- |
| 1984 | Yella | "Slice"/"Kru Groove" | Performer | Both songs |
| 1985 | World Class Wreckin' Cru | World Class | Vocals, Drum Programming | Entire EP |
| 1986 | World Class Wreckin' Cru | Rapped in Romance | Vocals | Entire album |
| 1988 | Eazy-E | Eazy-Duz-It | Producer | Entire album |
| 1988 | J.J. Fad | Supersonic | Producer, Mixing, Backing Vocals | Entire album |
| 1988 | N.W.A | Straight Outta Compton | Producer | Entire album |
| 1989 | The D.O.C. | No One Can Do It Better | Drums | "Comm. Blues", "Comm. 2" and "The Grand Finalé" |
| 1989 | Michel'le | Michel'le | Mixing | Entire album |
| 1990 | N.W.A | 100 Miles and Runnin' | Producer | Entire EP |
| 1990 | J.J. Fad | Not Just a Fad | Producer | Entire album |
| 1991 | N.W.A | Niggaz4Life | Producer, Co-Writer | Entire album; co-wrote "Real Niggaz Don't Die", "Real Niggaz", "She Swallowed It", "I'd Rather Fuck You" and "Approach to Danger" |
| 1991 | Yomo & Maulkie | Are U Xperienced? | Producer | Entire album |
| 1993 | Eazy-E | It's On () 187umKilla | Producer, Co-Writer | "Still a Nigga" and "Gimmie That Nutt" (co-wrote both songs) |
| 1994 | Bone Thugs-n-Harmony | Creepin on ah Come Up | Producer | "Intro", "Foe tha Love of $ and "Moe Cheese" |
| 1994 | Menajahtwa | Cha-licious | Both producer and executive producer | Entire album |
| 1994 | H.W.A. | Az Much Ass Azz U Want | Producer | "High Timez" |
| 1995 | Eazy-E | Str8 off tha Streetz of Muthaphukkin Compton | Producer | "First Power", "Ole School Shit", "Sippin on a 40", "Tha Muthaphukkin Real", "Lickin, Suckin, Phuckin", "Creep N Crawl", "Gangsta Beat 4 tha Street" and "Eternal E" |
| 1996 | Yella | One Mo Nigga ta Go | Both producer and executive producer | Entire album |