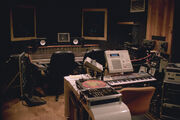 D&D Studios, also known as HeadQCourterz, was a hip hop recording studio located in New York City, New York. It is best known for being the studio used for many of DJ Premier's recordings. Artists who have recorded at the studio include The Notorious B.I.G., Nas, Jay-Z, KRS-One, Big L, Jeru the Damaja, Black Moon, and many others.
Founded by Doug Grama and David Lotwin (the two Ds in the studio's name) in the early 1990s, DJ Premier acquired the studio in 2002, although he had been recording there since 1992. He renamed it HeadQCourterz in honour of his friend Kenneth "HeadQCourterz" Walker, who was fatally shot that same year.
The studio was closed on 7 January 2015 to make room for luxury apartments in the building it was housed in. DJ Premier moved the studio's equipment to Kaufman Astoria Studios in Queens.