Not to be confused with AZ.
Azie Faison



Birth name

Azie Faison Jr.

Born

November 10, 1964 (1964-11-10) (age 57)
The Bronx, New York, U.S.

Origin

Harlem, New York, U.S.

Genre

Occupation(s)

Rapper

Years active

1989-present

Labels

Espionage (1991)
Artists Only! Records (2003)

Associated acts
Azie Faison Jr. (born November 10, 1964), also known by his stage name A.Z., is an American former drug dealer and rapper. He earned more than $100,000 a week selling cocaine in Harlem, New York during the peak of America's "War on Drugs" between 1983-1990. In an attempt to turn his life around, he started a rap career to advise others to not follow his path. He created the group Mobstyle, with whom he released two albums, and also released a solo album, Street Wise, in 1991. His legacy has been referenced to by many rappers, and his life served as the basis of the 2002 film Paid in Full.
Biography
[
]
Azie Faison Jr. was born in the Bronx, New York on 10 November 1964. A fire destroyed his family's house in 1970, forcing the family to move to the Sugar Hill section of Harlem, New York.
Before becoming a drug dealer, Faison, who dropped out of school in the ninth grade, worked at a neighborhood dry cleaners. The movie Scarface strongly influenced his decision to become a drug dealer. In 1983, he was approached by a Dominican cocaine supplier who convinced him to begin selling the drug. By the time he was thirteen, Faison became a cocaine wholesaler in his Harlem district, and regularly earned between $40,000 and $100,000 a week from his operations.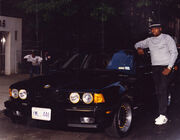 In 1987, an attempt to rob Faison's stash house left three people dead and three others seriously wounded. Faison was shot nine times in the robbery attempt, but survived and left the drug game to embark on a journey to disavow his former life and convince youth to not follow the path he had chosen. In 1989, he formed a group called Mobstyle and released a solo album in 1991.
Following the murders of his friend Rich Porter and his younger brother Donnell Porter in 1990, Faison began working on a movie about his life, which would eventually become Paid in Full and debuted in 2002. Around the same time, Faison teamed up with street documentarian Troy Reed to produce the acclaimed documentary about his life called Game Over. He also worked with author Agyei Tyehimba to write the book Game Over: The Rise and Transformation of a Harlem Hustler, which was published in 2007.
Discography
[
]